Wikileaks Mirror Network Map
After seeing how incredibly fast the network of wikileaks mirrors evolved over the last few day, I quickly wanted to visualize this process. I resolved the ip addresses using the free GeoLite City database by maxmind. For the map visualization I used an early prototype of my open source mapping framework OpenFlashMaps. Interaktive Version (Flash) Some static views: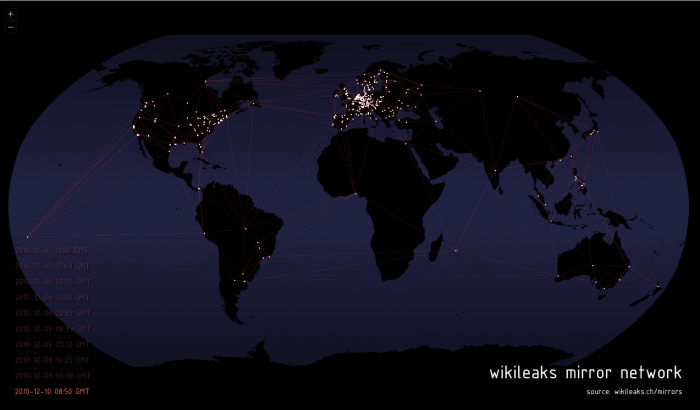 Nachdem ich gesehen hatte, wie schnell sich das Netzwerk von Mirror-Servern der Wikileaks-Webseite aufgebaut hat, kam sofort der Wunsch in mir auf, diese Entwicklung zu visualisieren. Die IP-Adressen wurden größtenteils über die GeoLite City Datenbank von Maxmind aufgelöst. Da die Datenbank leider etwas unvollständig ist, habe ich die übrigen Einträge über die Dienste von geoip.co.uk und websitegoodies.com aufgelöst. Interaktive Version (Flash) Statische Ansichten: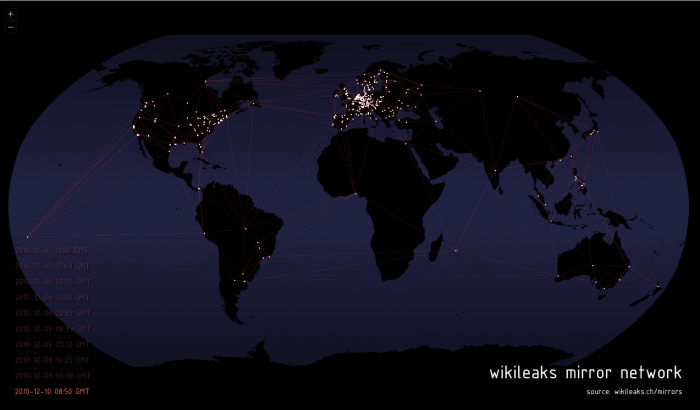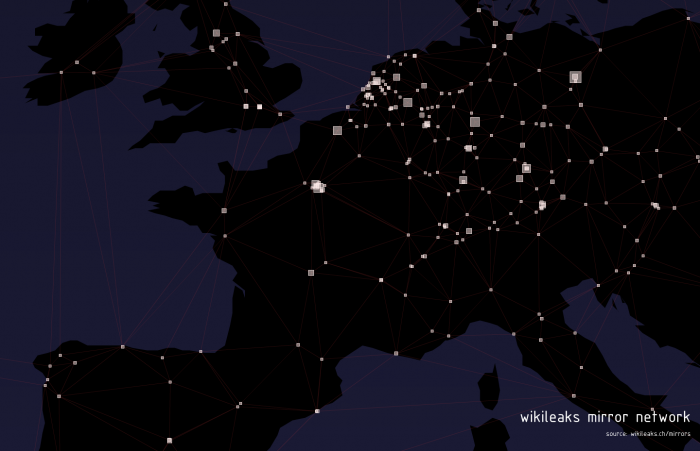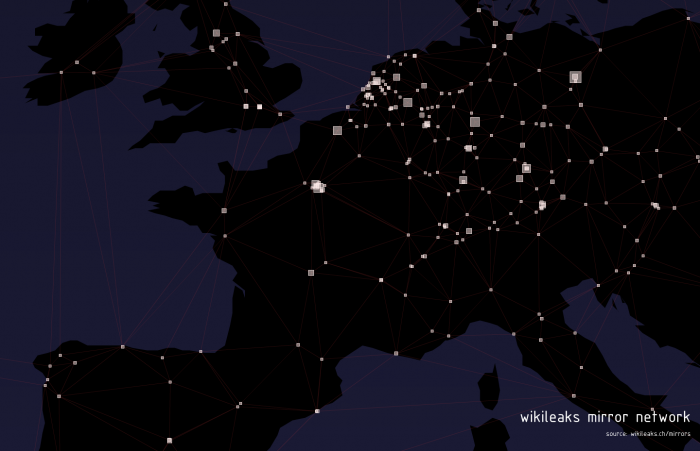 #

Comments
Winfried (Dec 13, 2010)
Finde ich sehr cool, dies Visualisierung!
Eins von den Pünktchen ist meins. 😃
Gregor (Dec 13, 2010)
Die Verbindungslinien beruhen nicht auf Daten, dass ist einfach eine Delaunay-Triangulation der Serverstandorte.
Winfried (Dec 13, 2010)
Wo kommen eigentlich die Verbindungslinien her? Beruhen die auf irgendwelchen Daten?
Mark A. Taff (Dec 16, 2010)
I like this visualization; I even found my own mirror. 😃

Will you please update it? Thanks!
Mark A. Taff (Dec 16, 2010)
In German, via Google translate:

Ich mag dieses Visualisierung, ich fand sogar mein eigenes Spiegelbild. 😃

Würden Sie bitte aktualisieren? Vielen Dank!